ARCHAEOLOGY DAY November 4, 2023
See details at Archaeology Day.
---
VOLUNTEER CHUCK BENNETT LEAVES
AN EXTRAORDINARY LEGACY OF SERVICE TO THE PARK AND CDAS
As Chuck Bennett retires from his more than 20 years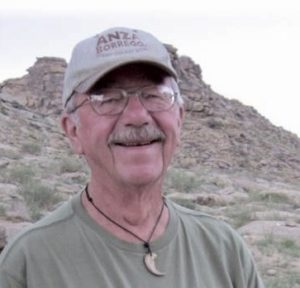 with Colorado Desert Archaeology Society, we want to thank him for his decades of outstanding service to California State Parks and CDAS.
Chuck started volunteering in the Park in 1985 — building bighorn sheep guzzlers, helping with trail work and assisting in rebuilding the pupfish pond after it was vandalized.
In 2001, he and his wife, Mary, took a volunteer training class with renowned archaeologist, Dr. Joan Schneider, which was the beginning of his cultural resource work at Colorado Desert District.
Chuck presenting his drone research study at the 2020 Archaeology Weekend.
Over the years, Chuck has been a driving force in the establishment and growth of the archaeology department, including the planning, construction and completion of the Begole Archaeology Research Center in 2005.
He also helped develop the Cultural Heritage Preservation and Protection program at Ikh Nart Nature Reserve in Mongolia, as part of Ikh Nart's Sister Park relationship with Anza-Borrego Desert State Park.
Chuck has served as president of the Anza-Borrego Foundation, chairman and
member of the CDAS Steering Committee, and site steward of five sites in Harper Flat for 15 years. Chuck and Mary each received the prestigious Directors Gold Medallion Award from California State Parks in 2006.
Chuck's leadership, knowledge and extraordinary talents have been instrumental in preserving and protecting the rich cultural resources of ABDSP and beyond. He has been an inspiration and mentor to so many of us over the years — and we will always be grateful. We wish Chuck and Mary the very best.