SAVE THE DATE!
Archaeology Day November 4, 2023
9:00 am – 4:00 pm
Anza-Borrego Desert State Park Visitor Center
The Colorado Desert Archaeology Society (CDAS), in partnership with the
Anza-Borrego Desert State Park and Anza-Borrego Foundation,
will celebrate our mountain and desert cultural heritage.
Archaeology Day Activities
Educational exhibits about cultural resources in the Colorado Desert District, How to Visit an Archaeology Site, and the Colorado Desert Archaeology Society
Participation by local Indigenous artists
Exhibits by San Diego County archaeological organizations, museums and education programs and indigenous cultural centers.

Family friendly activities including Paddle and anvil pottery making and rock art painting. Materials will be available for visitor participation.
Uses of Native Plants for Food, Medicine and Construction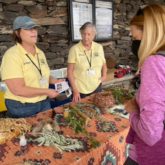 Guided tours of the Archaeology Lab conducted by the Colorado

Desert Archaeology Society volunteers.
In-person Field Trips to desert cultural and petroglyph sites.